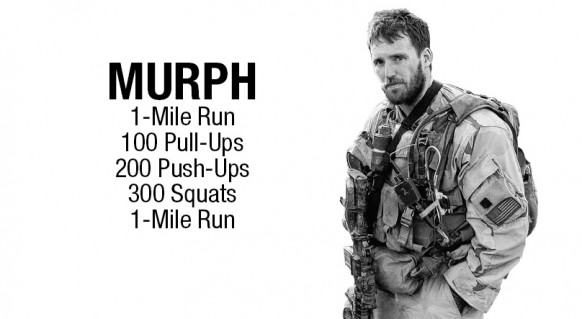 Tomorrow, Saturday at 9am we will be completing Murph. We will offer RX'd, scaled and team variations for the workout. This is but a simple gesture to memorialize all those who have given the ultimate price and those who still are serving, so that we at home can live free. Think about this, when you come in and want to complain about it. Sacrifice and be humble.
Via BoxLife Magazine:
Every year on Memorial Day weekend, CrossFitters in affiliates across the world perform the Hero workout, 'Murph'. It is a workout that has become synonymous with CrossFit, not just for its brutal toughness, but for what it represents. 'Murph' is not simply another workout we do in a class to increase our fitness before moving on to whatever else we have going on in the day. It is a workout designed to honor and remember the men and women of the armed forces that have lost their lives in defense of our freedom. And as is the case with every Hero workout, it has a story of courage and sacrifice behind it.

'Murph' is named after Navy Lieutenant Michael Murphy, who was killed in action in Afghanistan June 28th, 2005. He was 29-years-old…

The actions and story of the SEALs on June 28th, 2005 are portrayed in the film 'Lone Survivor'

Murphy was posthumously awarded the Congressional Medal of Honor for his courage and sacrifice that day. All three of his men were awarded the Navy's second-highest honor, the Navy Cross, for their actions. The men who were killed in the rescue attempt were also honored. These included Petty Officer 1st Class Jeff Taylor and Lt. Michael McGreevy, who were posthumously awarded Bronze Stars for Valor and Purple Hearts.

These HERO workouts are symbolic gestures of respect for all the fallen soliders and service men and women who defend our freedom. 
Workout of the Day
With a Partner complete and partition as necessary, one person works at a time.
*once you start a station you must finish
2 Rounds
400m Farmer Carry
100 KBS
100 Sit Ups
4:00 Pillar Work
100 Calories Airdyne/Ski-erg/